For the past several years, BluJay Solutions has collaborated with Adrian Gonzalez, an industry-leading supply chain and logistics analyst and blogger for "Talking Logistics with Adrian Gonzalez." Adrian created a cycling team, "Logistics Leaders for T1D Cure" to support the Juvenile Diabetes Research Foundation (JDRF) in their efforts to find a cure for Type One Diabetes. Adrian's daughter, Hannah, was diagnosed with the disease at age 11, and Adrian sees the team as a perfect way to "give back." Riders from BluJay Solutions have been a part of the LL4T1D Cure team since 2016.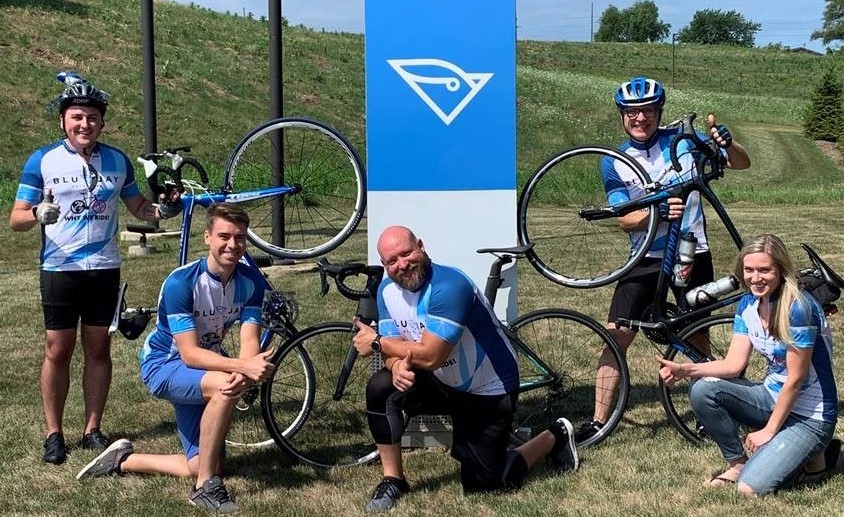 James Coon, Translation Project Manager at BluJay's Holland, Michigan office rode with Adrian and the team the past two years. "The company knew I participated in charity cycling events, so they asked if I would join Adrian in Death Valley in 2016," says James. "It was the most challenging and rewarding event I've ever participated in." James returned in 2017 to ride 100 miles with the LL4T1D Cure team at a Juvenile Diabetes Research Foundation event in Saratoga Springs, NY.
Last year, two BluJay riders-Kelly McCauslin and Gabe Coury-joined the LL4T1D Cure team and rode in two separate JDRF events – Santa Fe, NM, and LaCrosse, WI. Kelly is a Senior Business Consultant in the Professional Services group and Gabe is a Customer Support Analyst, both work in the Holland, Michigan location.
James, Kelly, and Gabe return again this year and are joined by two new riders, Connor Reynolds and Dewey Sweat. Dewey and Connor are Logistics Coordinators on the LaaS team in Holland, Michigan. The five riders will represent BluJay on the larger LL4T1D Cure team.
This year's event is again taking place in Saratoga Springs, NY, on Saturday, September 14. The BluJay cyclists are well on their way to raising their collective goal of $12,000 for the event.
According to James, "we're having a good-natured competition to see who can raise the most. Together, we've raised almost $7,500 already and I know we can hit or even surpass our goal with the help of the wider BluJay family. I'm hoping BluJayers will feel like I do, that this event fits perfectly with our community spirit and tagline, TOGETHER, WE'LL SOAR!"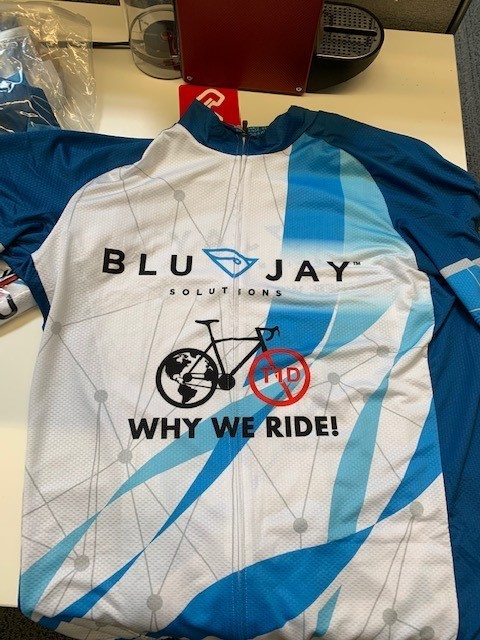 If you'd like to make a donation to Logistics Leaders for T1D Cure, visit fundraising page for BluJay's team members: Captain James Coon, Kelly McCauslin, Gabe Coury, Connor Reynolds and Dewey Sweat. We wish all of the riders a healthy and successful event.
*The JDRF is a 501(c)(3) organization; check with your tax professional, your donation may be tax-deductible.