Guest commentary by Mike Mulqueen, JBF Consulting – as provided for the January 2021 Freight Market Index report
As we say good riddance to 2020, the BluJay Freight Market Index (FMI) data shows signs that the US domestic truckload spot and contract markets may have topped out, and we are regaining a semblance of supply/demand equilibrium. Reefer rates peaked in November and dry van rates reached their highs in December. Each has seen slight, but noticeable pullbacks since their peaks. However, rates are still historically very high, and the freight environment remains challenging. In the latest reporting period, primary tender acceptance for all modes was under 80% and the percentage of loads that went to the spot market was close to 9%. Relying on the spot market today is an extremely expensive proposition considering that spot market rates are, on average, a full 50% higher than the corresponding BluDex rate.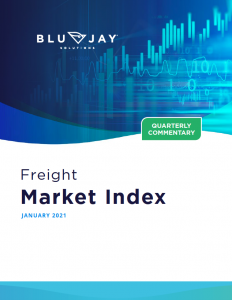 Additionally, ocean container and air freight rates hit all-time highs last year and the parcel carriers rewarded their largest customers with peak season surcharges and even service stoppages in some instances when volume thresholds were exceeded. On-time performance remains poor across all modes, but especially in ocean, intermodal and LTL freight.
If one likes challenges, freight operations was the place to be last year!
Looking Ahead
Last January, the conventional wisdom was that we would see a return to relative normalcy after two extraordinarily volatile years in freight transport. So much for conventional wisdom!
As we look to 2021, the short-term prognosis is for a softening of rates through Q1 as depleted inventories, especially in the consumer sector, have been replenished, the holiday season is behind us, and we enter a traditionally soft period in trucking. However, given that today's freight rates are extremely high, freight budgets will continue to be stretched. Significant headwinds will need to be overcome in order to see impactful rate reductions in 2021. These include:
Increased freight demand – Higher freight volumes should be anticipated as the economy comes back on-line and additional stimulus is injected into the economy, especially in the industrial sector.
Fuel – Diesel has risen by over 30 cents per gallon since November, now sitting at just under $2.70 per gallon. Increased global commerce will add pressure to oil prices, which will keep diesel prices elevated as compared to 2020.
Regulations –The Biden administration will evaluate various new regulations focused primarily on safety and renewable energy. These regulations will correlate to higher operating costs for asset-based service providers.
Drug and Alcohol Clearinghouse – Over 40,000 drivers have been removed since the Clearinghouse went into operation last January. It is likely that the Clearinghouse also has a dampening effect on driver recruitment and will make hiring drivers more difficult and costly.
Pandemic conditions – Regional responses to COVID (e.g. lockdowns) will increase lane variability into the carrier networks and variability correlates to cost.
On the positive side, carriers are responding to the favorable market conditions by increasing capacity. Over 100,000 Class 8 tractors were ordered in the last two months of the year, representing 36% of all 2020 orders. Carriers are betting that prices will remain elevated. However, to quote Mark Twain, history doesn't repeat itself, but it often rhymes. The memories of 2019 must be in the minds of trucking executives. Keeping some powder dry while cautiously increasing capacity would seem prudent when compared against going "all in" on the premise that rates and margins will remain attractive.
Summary
Freight logistics has always been challenging, but the last three years have been off the charts. Each mode of transport is evolving rapidly, as are shipper networks, customer expectations and technology. Freight transport is in the spotlight more than ever and, when executed well, offers organizations a true competitive advantage. Skilled logistics professionals with the right processes and technology can make significant impacts to your businesses in terms of cost reduction and service improvements. You have the TMS technology. What are your plans for the upcoming year and how do you intend to maximize the value you bring to your organization?
Mike Mulqueen is a Partner at JBF Consulting and leads the Logistics Technology Strategy practice. JBF Consulting is a unique supply chain execution consultancy of TMS experts. Sign up here to receive the JBF Freight Transportation Bulletin, published monthly: https://bit.ly/jbf-bulletin-fmi.
— — — — —
To help during this unprecedented time impacted by COVID-19, BluJay is providing the monthly Freight Market Index report for free.  When every detail matters, data context is crucial to decision-making. Take advantage of the free FMI issues – subscribe for free here.