Guest commentary by Mike Mulqueen, JBF Consulting – as provided for the April 2021 Freight Market Index report
It is a truism that expertise reveals itself most clearly in times of adversity. For instance, most of the time, a sea captain's job is rather mundane; one might even say, boring. However, in a typhoon, the fate of the vessel hinges on the competency of the captain and crew. A failure to navigate difficult times can have titanic consequences.
In freight transportation, the capabilities of any given shipper are not literally life and death, but they often have considerable implications to the financial health of an organization. Today, earnings calls regularly cite supply chain challenges including freight cost, access to capacity, the container shortage and port congestion as significant headwinds to profitability.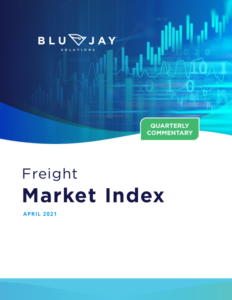 To readers of this commentary, this should come as no surprise. The metrics we see in the Freight Market Index (FMI) continue to tell the tale of a highly volatile market; one which remains very favorable to carriers. This is further validated by the stock performance of publicly traded trucking companies, where the median YTD return is over 25% as of April 26th as compared to a return of "just" 11% for the broader S&P 500 index. Most large carriers have adapted well to the "new reality" and are now reaping the benefits brought about by historically tight capacity.
While conditions remain challenging for shippers, and with experts seeing no short-term respite, a highly competent organization should look at the current freight market not in despair, but as an opportunity to showcase their expertise. For it is during challenging times that the performance gap between top and bottom performers is most starkly exposed.
For example, BluJay tracks the "Variance from Routing Guide Rates" across shippers. In 2019, a year highly favorable to shippers, the average variance between the top performers and bottom performers (The shaded blue area) was nearly indistinguishable. However, in the latest period, the top quartile saw only a slight increase in the variance to the routing guide, while the bottom quartile has seen rates soar nearly 25% above the routing guide. We see similar gap increases in quartile performance across a wide array of areas reported on in the FMI, including spot market utilization, primary tender acceptance rates and on-time performance. And while there are a multitude of reasons for the discrepancies, one that must be considered is the strategic and operational efficacy of the transportation planning organization.
The Logistics as a Service (LaaS) Option
Having strong logistics technology is a prerequisite for best-in-class freight operations. However, having equally strong processes and people is also critically important to any operating system. Amongst my clients, an option that continues to gain interest is understanding the cost and benefits of outsourcing daily transportation functions. Many oversimplify the decision by comparing the cost of their employees and technology versus the managed service provider fee. However, that approach fails to adequately measure the operational benefits a shipper may receive by outsourcing freight operations.
Some recent examples provided by the BluJay LaaS team bear this out.
LaaS has 7% less overspend against BluDex on Spot Market rates. LaaS spends on average 3% less of total FUM on accessorials, even with lower primary rates.
LaaS has 13% higher routing guide compliance
LaaS has a 20% higher load-to-planner ratio
All above efficiencies are attained while also maintaining >2% higher scores across pick and drop on-time metrics
 While attempting to hypothesize why BluJay managed services operate better than technology only customers, three things come to mind.
A TMS system is inherently sophisticated and BluJay LaaS personnel, on average, will know their system better than a shipper's resources. LaaS planners have direct access to a cadre of knowledgeable experts within the managed service organization, as well as the R&D and product management teams, who are continually providing new capabilities to the offering.
By managing freight for dozens of different shippers, BluJay gets first-hand insight into what works and what doesn't. Teams can cross-pollinate learnings across the LaaS community so that processes are continually refined, and innovations adopted, to the betterment of all LaaS clients – and technology users too for that matter. It's a rising tide.
A managed service provider can be fired. Shippers hire them to run transportation operations efficiently and if they fail to do so, they can be replaced. That incentivizes the LaaS team to provide best-in-class services while finding ways to continually improve operating performance.
Summary
Former pugilist and renowned social commentator Mike Tyson famously said that everyone has a plan until they get punched in the mouth. The shipping community has certainly taken a solid shot over the past year. However, high performing organizations will undoubtedly continue to invest in strategic and operational improvements to their logistics operations. They know, as does BluJay, that competency and expertise are rewarded handsomely, especially during trying times. Leveraging the external expertise of the LaaS team to manage daily operations may be a valid way for some shippers to move from mediocre to magnificent.
Mike Mulqueen is a Partner at JBF Consulting and leads the Logistics Technology Strategy practice. JBF Consulting is a unique supply chain execution consultancy of TMS experts. Sign up here to receive the JBF Freight Transportation Bulletin, published monthly: https://bit.ly/jbf-bulletin-fmi.
— — — — —
To help during this unprecedented time impacted by COVID-19, BluJay is providing the monthly Freight Market Index report for free.  When every detail matters, data context is crucial to decision-making. Take advantage of the free FMI issues – subscribe for free here.