Combining order management and invoice processing capabilities, BluJay TMFF provides visibility and control over the entire order-to-cash cycle
Manchester, UK and Holland, MI – Dec. 17, 2020 – BluJay Solutions, a leading provider of global supply chain software and services, today announced that Nucleus Research has released analysis that reveals "The Value of BluJay's TMS for Forwarders." BluJay's Transportation Management for Forwarders (TMFF) application is a single solution for complete supply chain execution—air, ocean, and inland freight—purpose-built for global forwarders, multi-station operations, and single-station freight forwarders.
"BluJay TMFF is helping logistics providers around the world navigate greater demand fluctuations, along with backorders, stock shortages, compliance hurdles, and regulatory uncertainty," wrote Isaac Gould, research analyst, Nucleus Research. "Nucleus has found that customers adopted the solution to quickly digitize and automate their shipping processes. Users have also reported cost-savings and reduced delivery delays by as much as ten percent."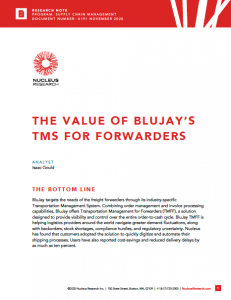 To read the complete report, click here: The Value of BluJay's TMS for Forwarders
The research cycle included references from BluJay freight forwarding customers including Rangel Logistics Solutions. From Isaac Gould:
"BluJay TMFF has proven use cases that demonstrate its reliability for enterprise-scale businesses. Supply chain managers need automation to focus on higher value-add tasks, analytics to identify cost savings and operational improvement opportunities, and end-to-end visibility to pro-actively avoid disruptions and address exception events," continued Gould. "Where traditional TMS vendors provide isolated supply chain networks that only connect its customers with their supply chain partners, BluJay improves the value proposition of all its solutions through its global ecosystem of users and connected partners."
Supporting business operations in more than 100 countries, BluJay's TMFF handles multiple languages, currencies, and time zones, and provides visibility throughout the shipment lifecycle. The application automates key processes, reducing the time and cost to handle each shipment, resulting in better customer service and the ability to differentiate in a competitive market.
"We appreciate the time and attention of this comprehensive analysis by Isaac and the Nucleus team, as well as the insight from our great forwarding customers," said Ritu Rooney, Senior Global Product Manager at BluJay Solutions. "We listen to our customers and understand that process automation, visibility, and providing an excellent customer experience are keys to any freight forwarder's success."
Recently, BluJay released Transportation Management for Forwarders 21.0, a web-based global, multimodal freight forwarding software application, featuring Customer Portal, a collaborative visibility and booking portal that allows freight forwarders' customers to easily access their key shipment data and make bookings online.
About Nucleus Research
Nucleus Research, Inc. is a leading provider of investigative information technology research and advisory services. Since 2000, Nucleus analysts have delivered insight and guidance to help clients make the best decisions. Analysts are experienced technology experts who concentrate on specific solution areas. They use their technology understanding blended with a financially focused investigative approach to uncover the value technology can provide.
About BluJay Solutions
BluJay Solutions helps companies around the world achieve excellence in logistics and trade compliance – it's in our DNA. Through a blend of Data, Networks, and Applications, delivered in the BluJay Way, our DNA platform powers the Frictionless Supply Chain for thousands of the world's leading manufacturers, retailers, distributors, freight forwarders, customs brokers, carriers, and logistics service providers. To learn more, visit: www.blujaysolutions.com, or follow us on Twitter @myblujay and LinkedIn.
###