BluJay invites you to join us for SOAR Summit Europe 2019 in Venlo, Netherlands, 12-13 February.
BluJay is excited to invite you back to our SOAR Summit in Europe for an enhanced BluJay customer experience.
Our second annual regional customer conference in Europe has been re-imagined from your feedback, and designed to bring the best value for the BluJay customer community. BluJay's SOAR event series is designed around you, to drive value throughout your organization and build upon your investment and
partnership with BluJay. SOAR Summit 2019 will take place 12-13 February at the Van der Valk Hotel Venlo, Netherlands. Equipped with several multi-functional business-quality meeting rooms and spacious accommodations, Hotel Venlo offers a modern venue for the improved agenda and conference format for SOAR Summit 2019.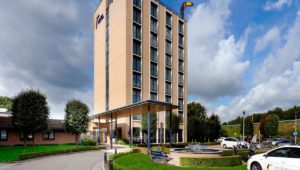 This must-attend event of the year for the BluJay community offers an opportunity to connect with fellow BluJay customers, partners, industry experts, and the BluJay team closer to home.
What's new this year
From personal consultations and live, hands-on demos with BluJay product experts to more professional peers presenting on a range of supply chain experiences and solutions – SOAR Summit 2019 is packed with the greatest mix of educational opportunities, networking events, and entertainment to bring added value to your whole organisation. Enjoy an enhanced soaring experience with:
Personal consultations and private meetings
Exclusive Pre-Networking Event – this will be an experience to remember
More peer and customer-led sessions featuring use cases
Demo Zone for hands-on demos and interactions with product experts
Networking opportunities to meet industry experts and more BluJay community members
What to expect
SOAR Summit 2019 is a condensed format of our global conference (held in April in Orlando, FL), with a regionally focused agenda that delivers first-hand insights through educational workshops exploring the latest products and services, valuable networking opportunities, and a range of dynamic speakers. SOAR attendees will be able to:
Contribute to the product roadmap through Customer Advisory Board (CAB) participation
Engage with relevant industry practitioners
Diligently analyse market challenges and innovative supply chain strategies
Acquire a better understanding of solution functionalities
Build stronger relationships throughout the Global Trade Network
Enjoy a day-and-a-half of learning how to optimise your supply chain with in-depth insights into globalisation, seamless touch points between government and industry, and the competitive advantage in order fulfillment and customer service. All while networking and relationship-building with industry leaders, peers, and BluJay product experts.
SOAR Summit 2019 is sure to provide value and inspire you, and we can't wait to see you in Venlo!
Stay connected with BluJay's latest SOAR news and updates by following us on LinkedIn and Twitter. #SOARSummit2019