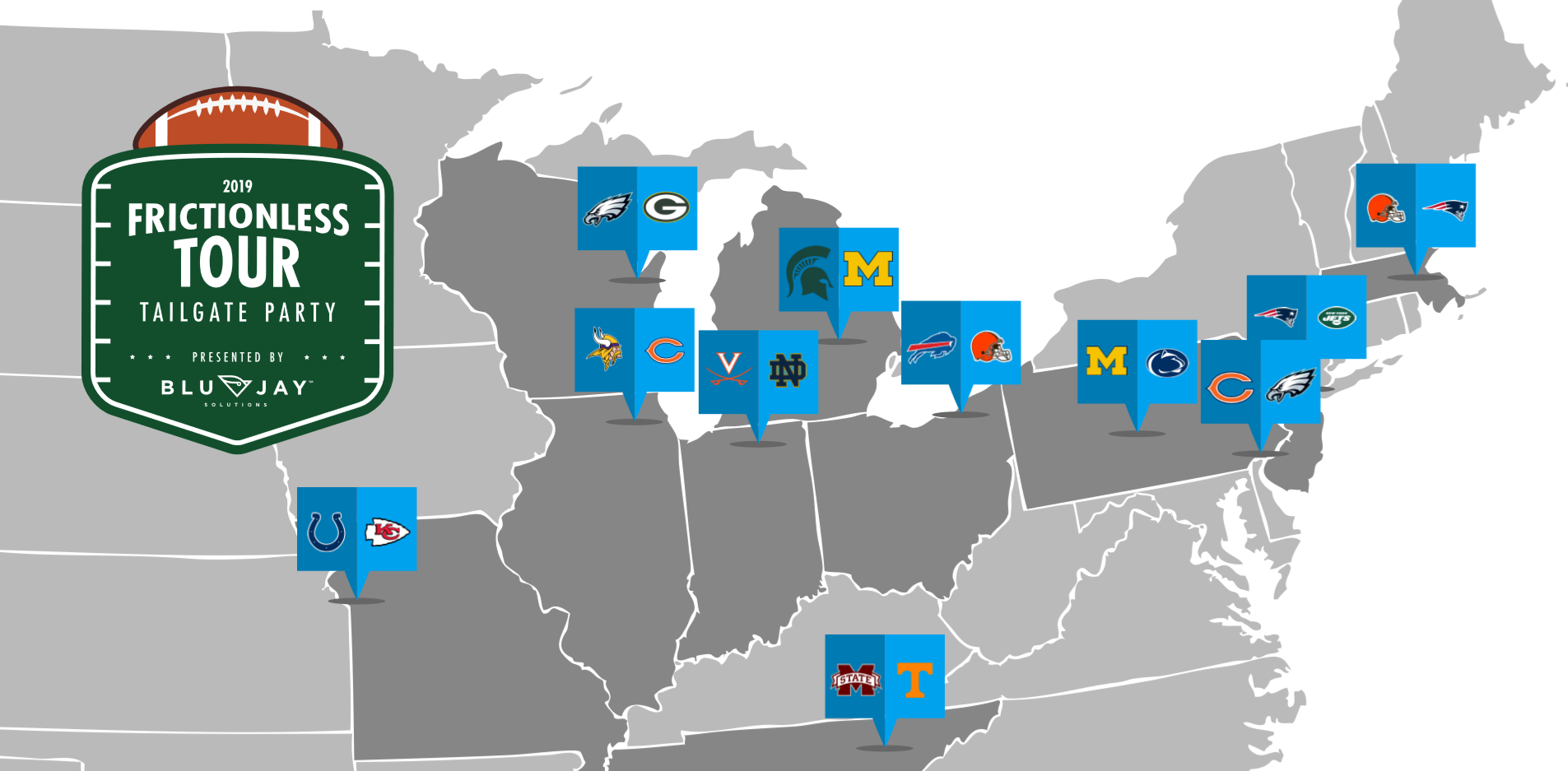 One 40-foot RV. 51 days. 11 football games. 6,941 miles traveled. Hundreds of foam fingers, mini footballs, stadium bags, BluJay birds, and hats given away. Over 70 games of cornhole played. An 8-3 winning record for the home teams. BluJay's Frictionless Tour hit the road in September, from production in Pennsylvania to kick-off in Wisconsin and a finale in Michigan. We traveled across a dozen states to demonstrate in a big way that supply chain is the ultimate team sport, and our customers, partners, and BluJay community showed up to prove it!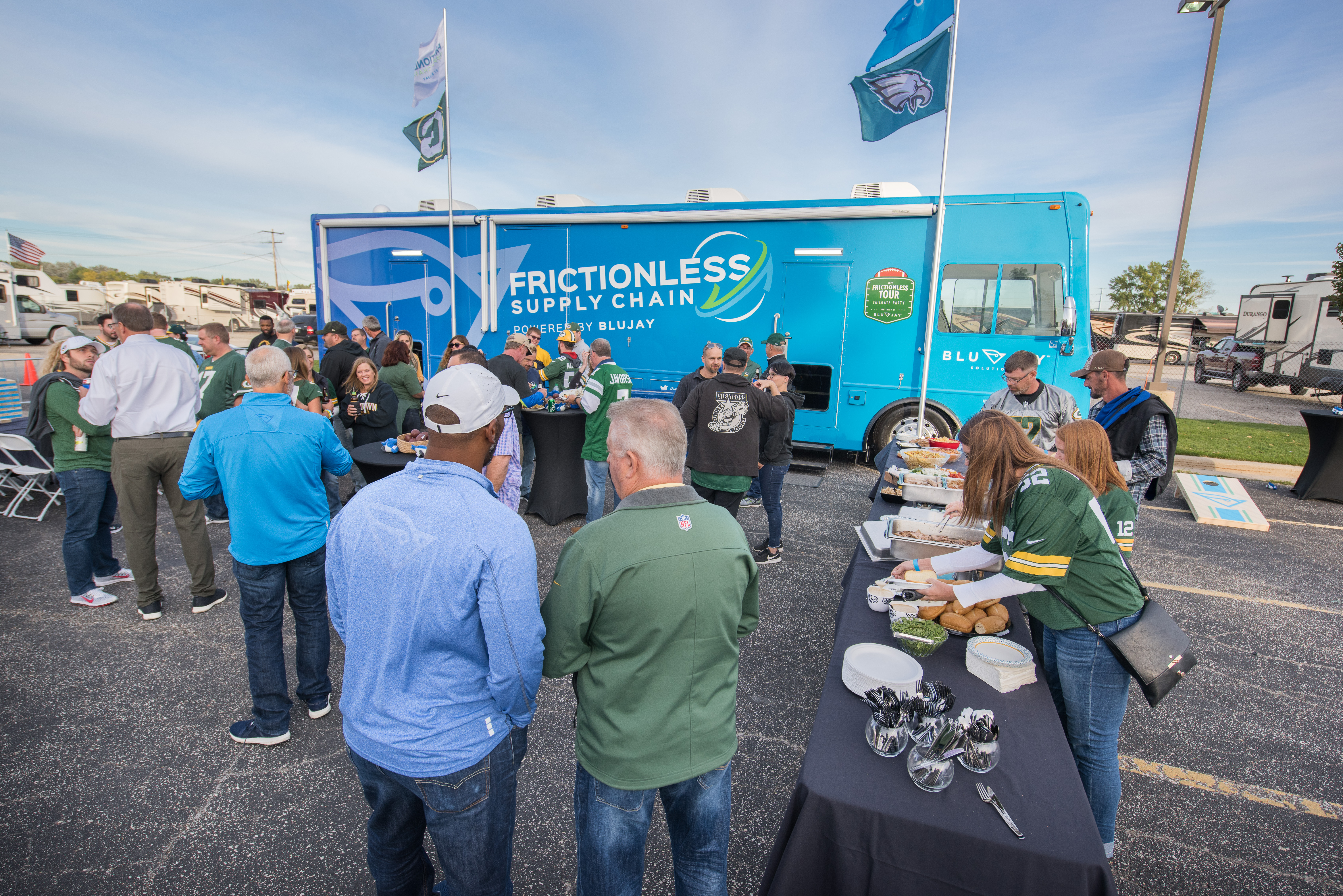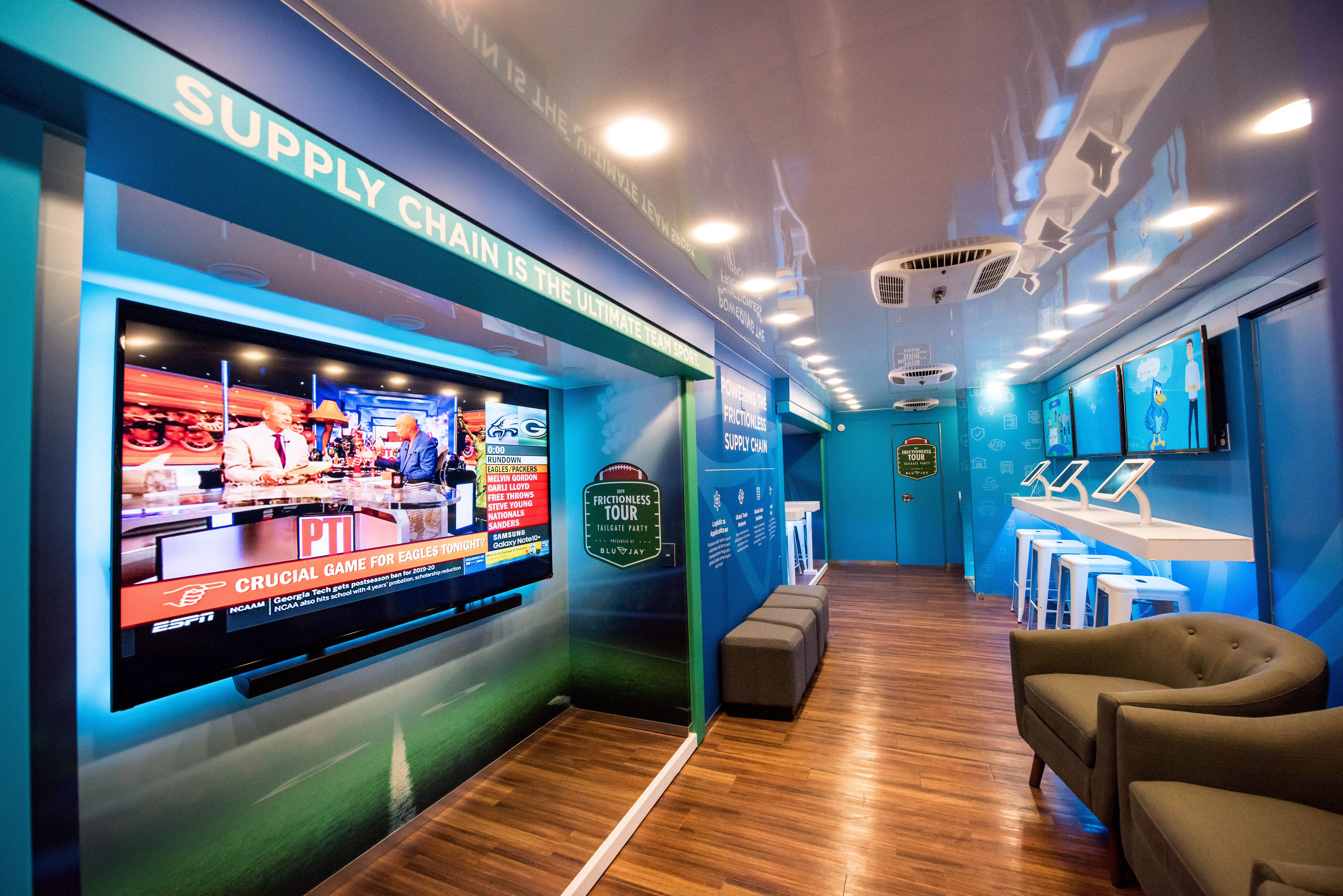 Not only did we get to give our customers a front-row seat to see how our data, network, applications, and people work together to create a Frictionless Supply Chain, but we created a unique atmosphere that the supply chain industry has never seen before. Our tailgates took us to some incredible venues and provided a special opportunity for our customers and guests to experience the BluJay Way in their own backyard while enjoying delicious food, drinks, and games together.
The first weekend of the Frictionless Tour was fast and furious, with three games in four days. Our journey kicked off before a Thursday Night Football game at historic Lambeau Field, with Packers hall-of-fame running back Ahman Green in attendance to visit, take pictures, and sign autographs.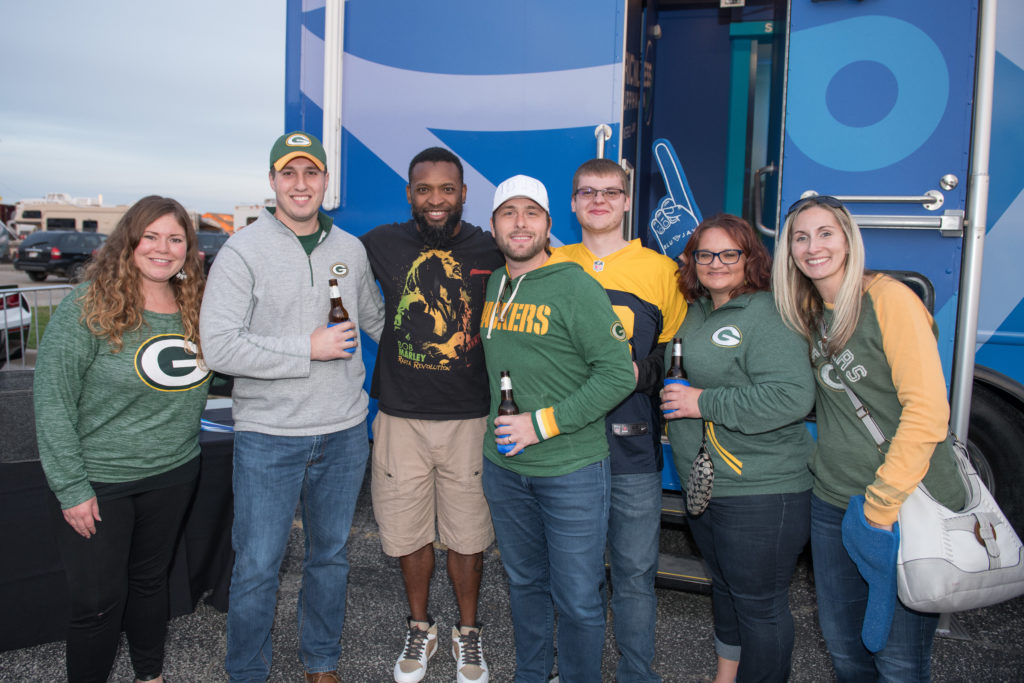 From Green Bay, our RV cruised to South Bend, Indiana for a Saturday stop at the University of Notre Dame. We saw Touchdown Jesus and the Golden Dome, and the momentum continued to roll into Sunday, where we visited Soldier Field in Chicago for an NFC North battle between the Bears and Vikings.
As you can tell, there was a lot of tailgating, but most importantly, we spent valuable time with customers, as well as their friends and family.
One week later, our RV arrived in Kansas City for a tailgate before the Colts vs. Chiefs game on Sunday Night Football. There, we served Midwest barbeque outside the loudest stadium in the NFL – Arrowhead, which holds the record for the most decibels recorded at a game: 142.2.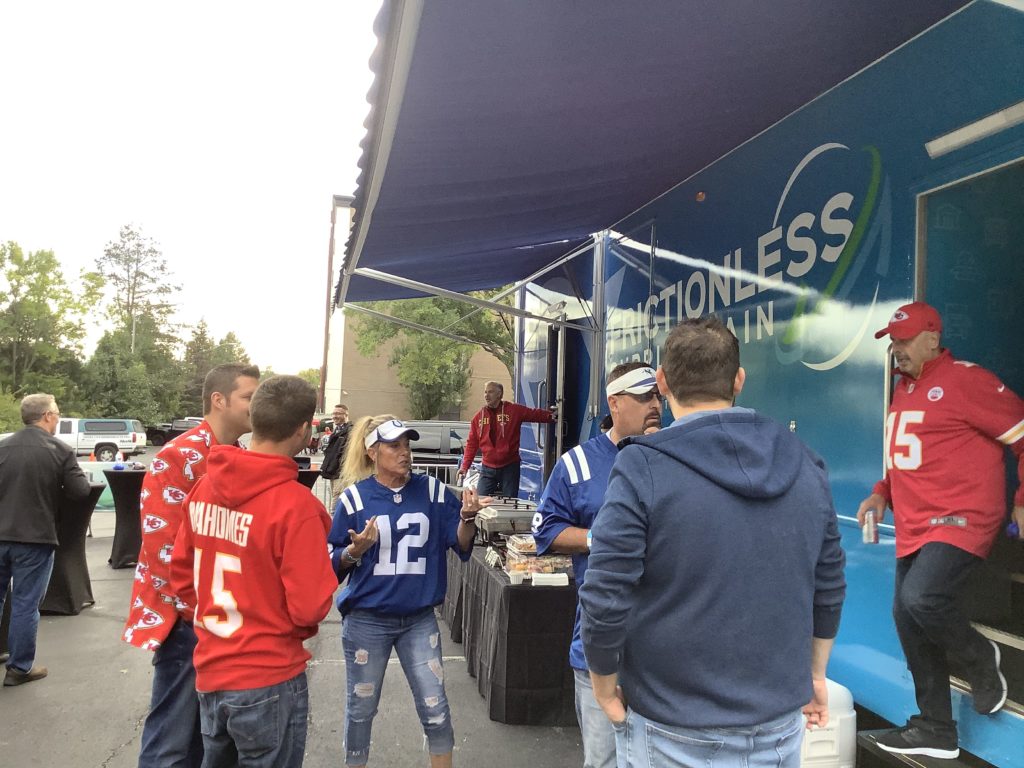 With three of the first four stops being NFL games, it was time to throw more college football into the mix. From Kansas City, the Frictionless Tour traveled to the University of Tennessee, one of the largest supply chain schools in the United States, and then to another, Penn State, for a Big 10 matchup with Michigan (yes, that white-out game).
From Happy Valley, the tour continued on to New Jersey for a tailgate before the Monday Night Football game between the Jets and Patriots. We had blast tailgating in front of MetLife Stadium, but unfortunately for the Jets, their defense looked Frictionless as they lost the game 33-0.
The next stop for our tailgate party was Foxborough, where we saw the Patriots win for a second week in a row. This stop was an example of rain or shine, with fans and guests braving relentless rain – but our customers still had an amazing time.
After taking a break from watching the Patriots win (what's new?), our tour arrived in Philadelphia for a true Philly tailgate before a rematch between the Eagles and Bears who met in the playoffs last year. Here we had another former NFL player in attendance, and this time it was Super Bowl Champion Brent Celek. Customers and their families were able to try on the tight end's Super Bowl ring and play cornhole together – they even beat him! The Bears couldn't quite avenge their double doink loss as the Eagles won.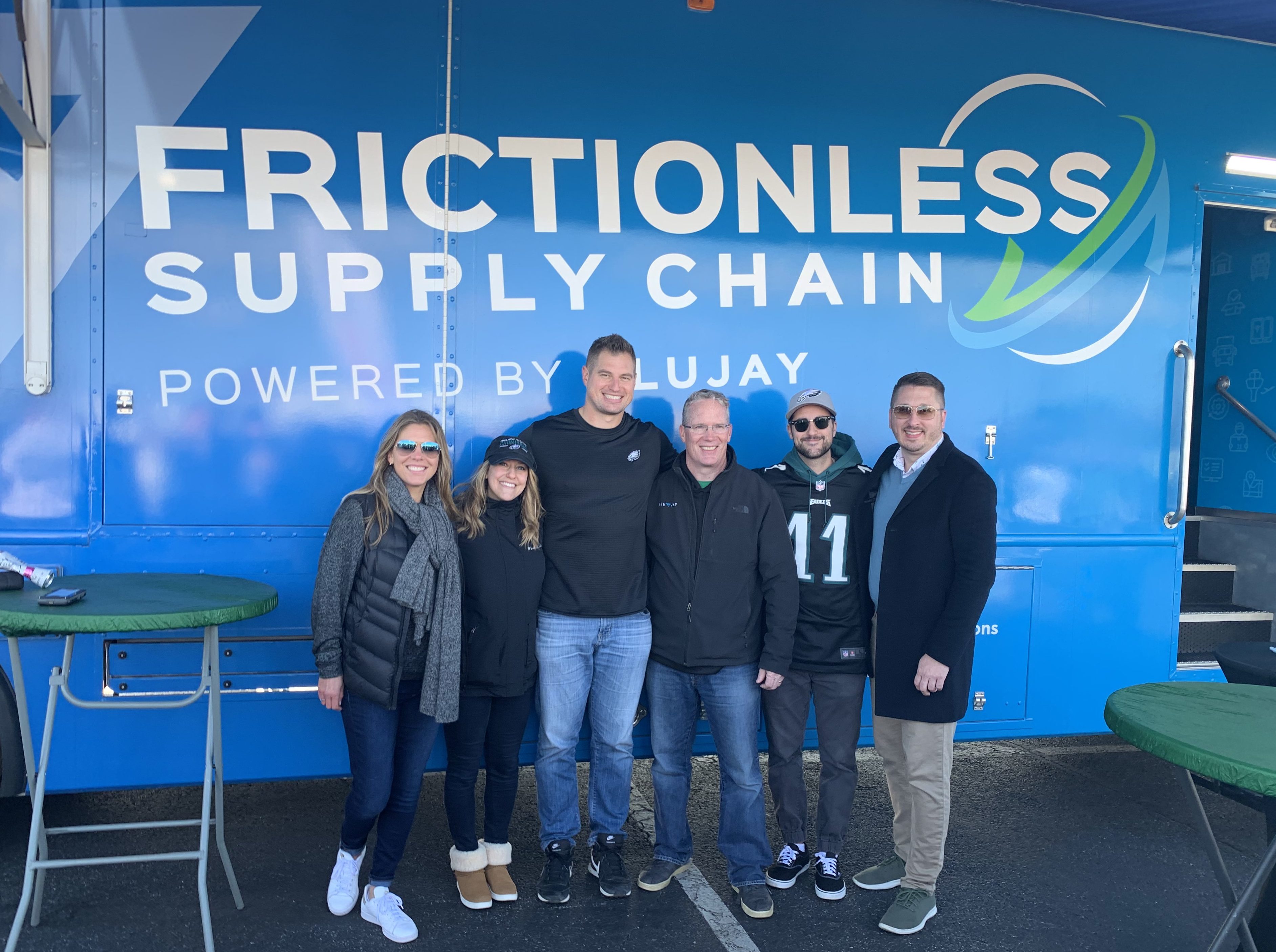 November arrived and with it came the perfect weather for football, and a stop in Cleveland where we hosted two of the most iconic fan bases in the NFL – The Dawg Pound and Bills Mafia. As intermodal freight moved along the rail between our tailgate and the stadium, the crowd warmed up for a game where the Browns pulled off the win in the final seconds.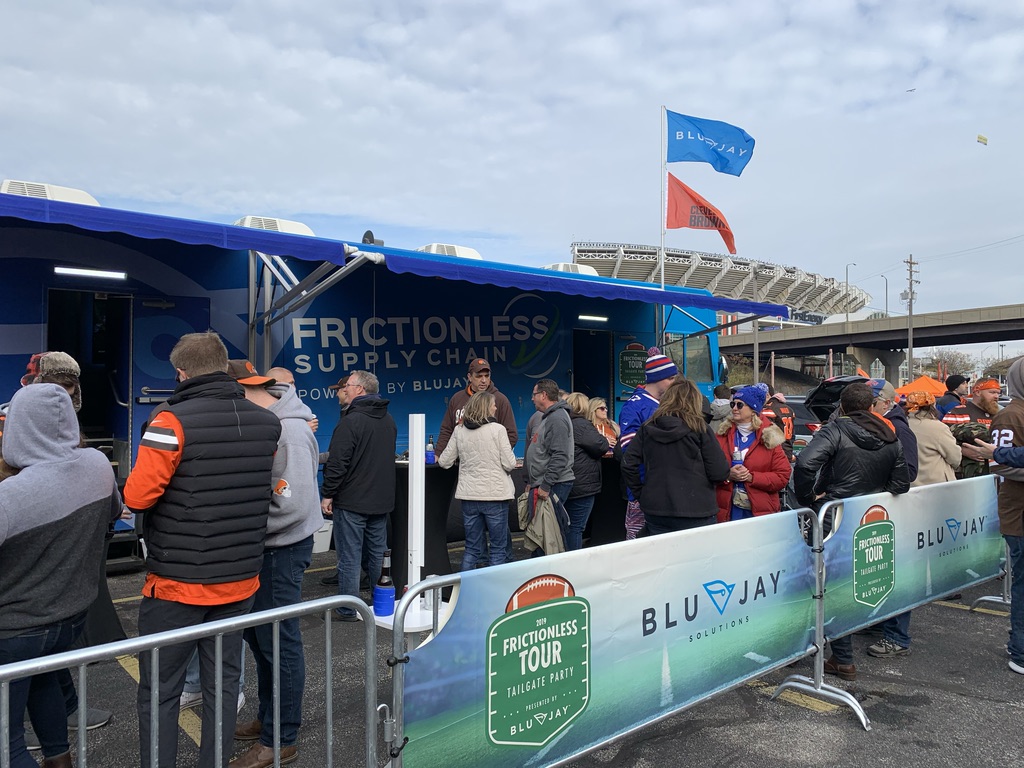 After Cleveland, our RV traveled to the final state of the tour: Michigan. Holland, Michigan is home to the largest BluJay office in the U.S., so we stopped for a huge cookout for employees based there. Thanks to our partner TriumphPay and their Epic BBQ trailer, coming all the way from Texas through a winter storm, our employees enjoyed a delicious feast and were able to see the incredible vehicle that our customers have been experiencing the last few months.
November 16 came, and this marked the last stop of the Frictionless Tour. The Big House in Ann Arbor was the location for a rivalry game between Michigan and Michigan State. A great number of employees from our Michigan office joined our customers for one final party!
The Frictionless Tour was an incredible success, but none of it would have been possible without you, our customers! Thank you to each and every person who attended our tailgates to experience the BluJay Way and how our data, network, and applications work together to power a Frictionless Supply Chain. Whether you joined us or couldn't make it, you can take a look at our photo gallery. We hope to see even more of you next time around – stay tuned for Frictionless Tour 2020.